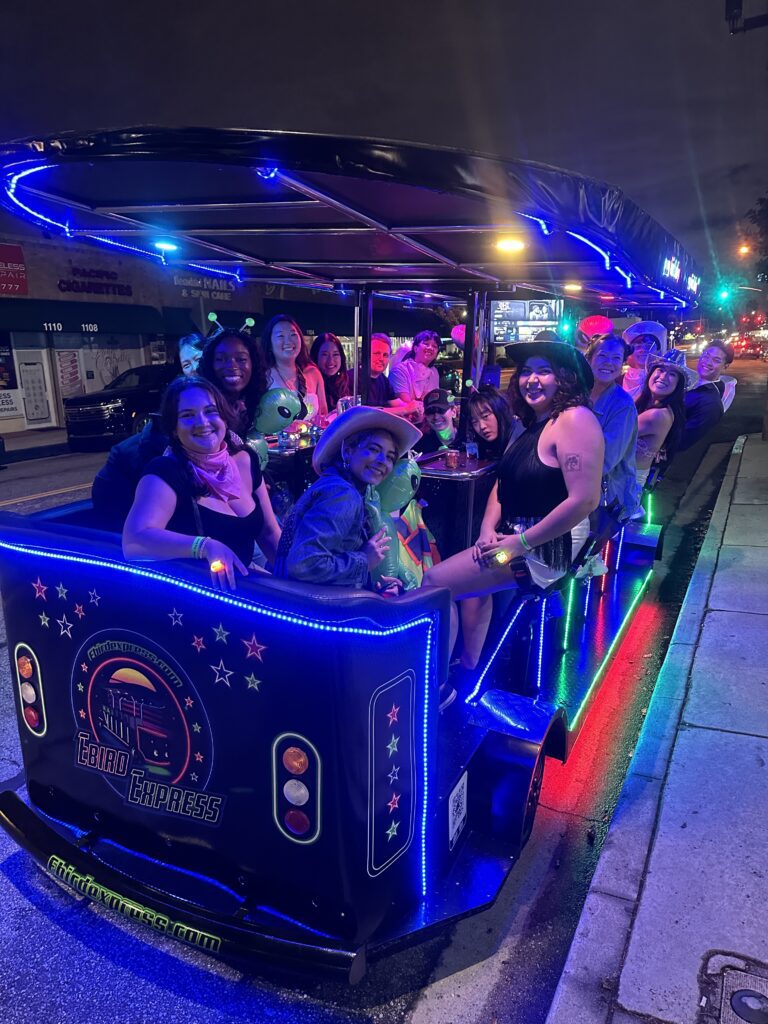 Disco Theme Tours in Glendale
Are you ready to boogie back in time and groove to the electrifying beats of the disco era right here in Glendale? Join us for a memorable journey through the mesmerizing world of Disco Theme Tours, where the rhythm of the '70s meets the magic of today. Get ready to step into your dancing shoes and embrace the funky, flashy, fabulous vibes of an unforgettable disco-themed adventure.
At Disco Theme Tours, we're passionate about creating memorable experiences that transport you to the disco era's golden age. Whether you're a lifelong disco enthusiast or just looking to let loose and have a blast, our tours offer something for everyone.
Why Choose Ebird Express for Disco Theme Tours in Glendale?
Glendale, California, is renowned for its rich history and diverse culture, but hidden gems in the city's bar scene are waiting to be uncovered.
Ebird Express offers you a vibrant tour that will be memorable for you. There is no need to worry about anything, we will take care of everything and make your tour memorable. Here is why you can choose the Ebird Express for the Disco Theme Tours:
Unleash Your Inner Disco Diva:
Our tours are all about embracing the disco spirit. Feel the funk and let your inner disco diva or dancing king shine on the dance floor.
Unique and Exciting Venues:
We've handpicked the hottest disco-inspired venues in Glendale, where you can revel in the groovy atmosphere and dance the night away.
Our Disco Theme Tours aren't just about dancing; they're about creating unforgettable memories. Capture the moment with friends, family, or fellow disco enthusiasts.
Expect to dance to all the classic disco hits that made this era unforgettable. Get ready for an immersive musical journey that will transport you back in time.
If you're looking to relive the disco era or experience it for the first time, our Disco Theme Tours in Glendale are the perfect way to dive into the rhythm and energy of this iconic era. Let's dance through the night and create disco memories that'll last a lifetime.
Book Your Disco Theme Tour in Glendale Today!
Don't miss the chance to join the grooviest tour in Glendale. Secure your spot on our Disco Theme Tours now, and get ready for a night filled with dancing, laughter, and dazzling disco memories. Whether you're a disco enthusiast or just looking for a good time, our tours are designed to transport you to the '70s and make your disco dreams come true.